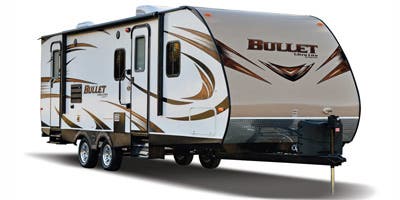 Our story began on our first trip of 2015.
While pulling our Keystone Bullet 27BHS to southern Indiana, both front rubber inserts began flapping in the wind. We called the dealer and they said to just remove them and bring it in after our trip.
While on vacation, the kitchen counter started coming apart. Then the molding fell off the slide out, and the bathroom vent was leaking.
It was at the dealer for a long while. This was due to my rejection of their poor craftsmanship while making the repairs.
Second Bullet 27BHS Outing
On our next trip with our "repaired" Bullet 27BHS our camping neighbors unplugged our power cord because it was smoking. According to the dealership the battery shorted out and burnt the inverter. The battery was not included in the warranty. Next, the awning was ripped off by the wind.
More Trouble
Currently the front of our camper is wavy. The insurance will not pay. They said it is water damage. Of course, the dealership wouldn't say if it was water damage or not. I did my own inspection and found no area where water could be getting in. There are no signs of water damage inside the camper. After researching this it's called de-lamination. A common problem with this unit, but the manufacturer refuses to correct the issue. Furthermore, the dealer wants $2,500 to repair this.
— Guest Contributor
Visit our Contributor page to share your Keystone RV experiences.
Camping World Also Sucks
Additionally, Camping World, who seems to be in bed with Keystone, has a reputation that sucks. Share your Camping World nightmares here at CampingWorldSucks.net.