I created this blog to give RVers a place to share their Camping World encounters. It's not a fancy website, just a place to share the Camping World consumer experience. So few reviews that I've read were positive that I'm assuming this space is necessary.
After dealing with Camping World personally, we came to the conclusion that Camping World sucks. Our own experiences fill the first two posts. First is our sales experience in Monticello, Minnesota. Second, our warranty repair experience in Bartow, Florida. From what I've read it doesn't matter where you are; it's the company standard.
The BBB
Also, I've spent some time reading other experiences, including Better Business Bureau (BBB) complaints. The BBB website gives them one-star on customer reviews then gave them an A+ rating. What is that about?
After this lame response, the BBB marks the complaint as answered. Furthermore, when the company does anything in response, the BBB reports the complaint resolved.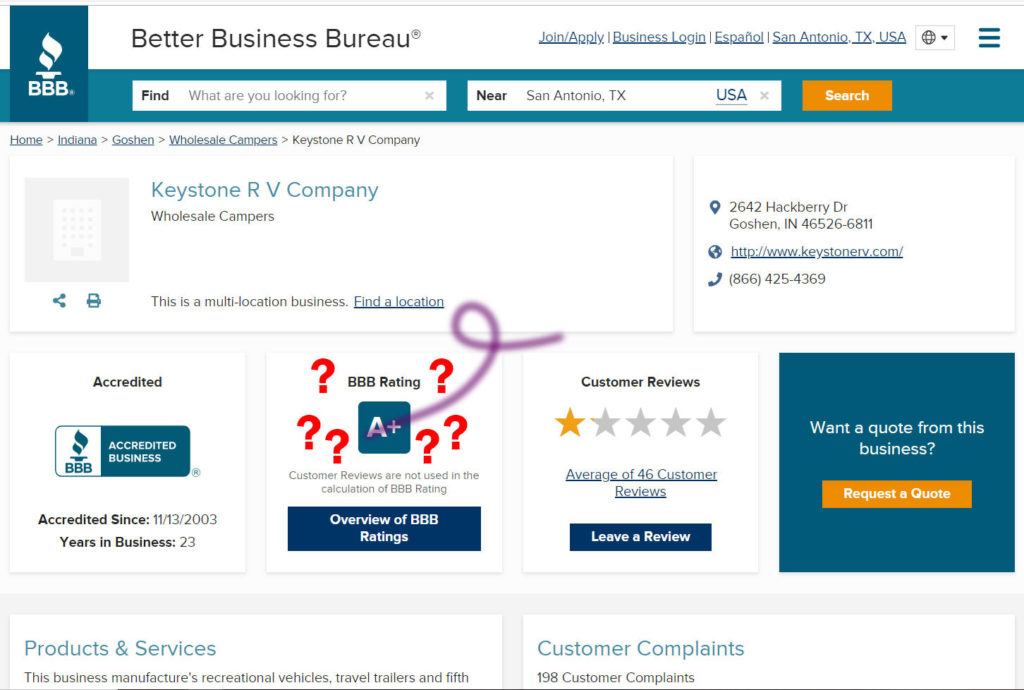 Complaint after complaint that is marked resolved was not resolved in the customer's eyes. Find out for yourself. For instance, I invite you to visit the BBB website and do your own research. In addition to the BBB, I checked out PissedConsumer.com. They give them one or two stars.
An Attempt for Change
It may be useless, but maybe, someday, the company will change its' business practices. A little integrity goes a long way. In the end, I'm hoping future RV consumers will be warned by posting authentic Keystone RV experiences.
These posts are not categorized because most will be warranty encounters. Please contribute your story and let's hope for change.
Also, I've posted our warranty repair experience with Keystone on KeystoneRVsucks.net. Same issue, lack of integrity. It is our my opinion that Keystone and Camping World are in bed together. We experienced a team effort to rip us off.
Above all, we need a multitude of experiences publicized to facilitate change. Please contribute your experiences.
Disclaimer
This site is in no way profitable. No products or services will be sold on KeystoneRVsucks.net. No advertising will be accepted from retailers or contributors. This site is solely for consumers to share their Keystone RV experiences.