Our brand new Keystone Cougar 26RBS travel trailer flooded on our first trip and continues to flood.
We purchased a 2019 Cougar 26RBS in early July of 2019. On our first camping trip we noticed a leak. We traced the leak to the window in the front cap. The mattress was soaked.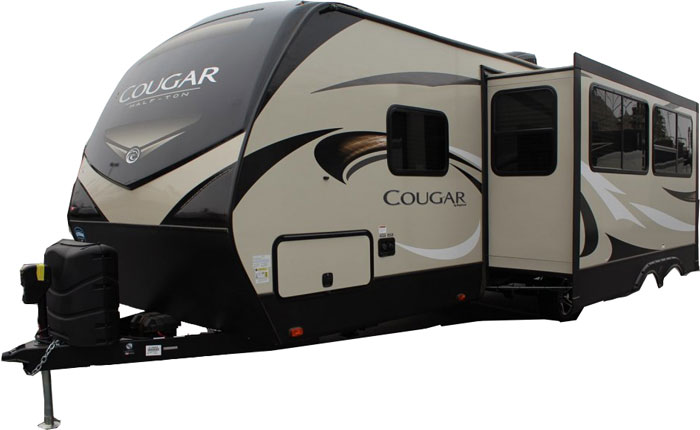 We took the unit back to dealership for repair. The dealership where we bought it kept it for more than three weeks. Supposedly, they took the window out and corrected the issue. They claimed it was the seal around window. In addition, the repaired a few other little things; interior cosmetic issues.
Obviously, when we had our first rain after we got our trailer back went out to inspect the new seal job. That repair had worked and the mattress was dry. The initial leak had been repaired.
The floor had flooded and the carpet was soaked. Due to a new leak in the slide, we had a new problem. Next, we realized that the skylight over the shower had leaked as well.
Again, we will be taking our brand new travel trailer in this week for repairs. The dealership has our camper more than we do. Thankfully, the unit is still under warranty. But we're starting to wonder if we will ever be able to use our brand new Cougar 26RBS.
— Guest Contributor
Keystone RV Sucks
For those with issues, get in line at Keystone RV Customer Service. You can try emailing them at www.ownerrelations@keystonerv.com. Try calling their office at 866-425-4369. Usually they answer and seem like they are going to help. Owners are normally blamed for whatever is wrong with the unit.
To contribute your horror story to Keystone RV Sucks click here. The goal is to warn other consumers via our own experiences with Keystone RV. The reviews are very rarely positive.
Camping World Sucks As Well
Keystone bed mate Camping World also has a reputation that seriously sucks. Sharing Camping World experiences on CampingWorldSucks.net is just a click away.
The reason that these blogs have a ".net" is because Keystone and Camping World own the ".com" sites. Do you own the ThisBusinessSucks.com version of your business' website? . . . Me either.