We bought a 2014 Keystone Outback 250RS in July of 2013. Nine months later the gel-coat on the front cap was failing and turning powdery. I brought it to a local dealer for the delamination and other warranty items. They apparently never did anything with my claim except maybe toss in the trash. We hadn't bought that unit from that shop.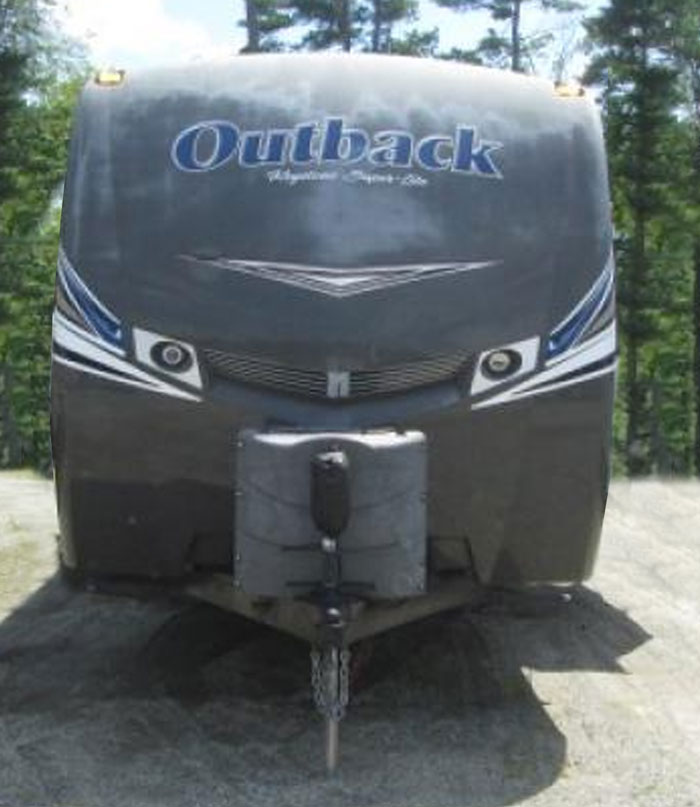 The claim was being handled too slowly. After a few months, I contacted Keystone directly. I talked to a very nice customer service person who assured me that it would be looked into. A month later still nothing.
Common Keystone Delamination
I started seeing other Keystone units with the exact same problem. Ergo, I started photographing them. I called Keystone and they said it was an environmental problem not a materials problem. Therefore, not their problem.
Next, I started emailing several different areas of Keystone's management; customer service, warranty, customer satisfaction, etc. While I remained civil and polite, I let them know that I was collecting documentation from other owners about this problem. Finally, I got a call back from customer satisfaction saying that, "even though this issue is not caused by workmanship or defective materials they would be willing to contribute $500 towards the repair."
Keystone Answers
After more cajoling, they upped the offer. Finally, they made a written offer to send a $1500.00 check if I would sign a release that basically said this is all we're going to do. Now go away!
Hence, I took the check and repaired it myself matching the paint to some 1980's Chrysler colors that were close. However, I did not re-apply the keystone outback stickers to the front so that people would ask me "hey what happened to your camper" Great design for a towable RV, but terrible execution.
— Guest Contributor
Contact Thor Industries
Recently someone reported getting results by contacting Thor directly. For that reason, try calling Thor, the parent company of Keystone, maker of the Outback 250RS. This is another avenue in the complaint process. To attempt results, try Thor custom support online. Furthermore, their customer support number is (877) 855-2867.
Keystone RV Sucks
To reach Keystone RV Customer Service try emailing them at www.ownerrelations@keystonerv.com. Due to lack of results, try calling their office at 866-425-4369.
Contribute your Keystone RV Sucks story here to warn others via your Keystone RV experiences.
Camping World Also Sucks
Camping World, who seems to be in bed with Keystone, also has a reputation that sucks. Click to share your Camping World experiences at CampingWorldSucks.net.